Baby, you ain't got this mess from me (even though I believe it), but
they say
(they being Jacky Jasper) that Usher Claude's new broad ain't takin' care of her own kids while she's chasing Ursh around the country with
his
cheerun!
Do tell!!
From
Jacky
:
Grace lacks in her parenting while following Usher. She even gets high around the children! How can she help him parent when her kids are wild and crazy
Her daughter is 16, and out of control — talking about getting high, fucking, and her music career on Twitter.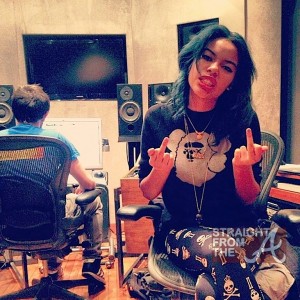 While her kids are doing whatever they want, Grace lets Usher have sex with her friends, and strippers. She has three-ways with Usher, and has even brought her BFF into their bedroom!
She's a freak who gets around… Kanye ran a train on her, she fucked interns at Def Jam, and she even had sex with L.A. Reid.
She also dated Q-Tip for awhile, he wrote
'Bonita Applebum'
about her. That's before he left her cuz she smashed one of his homeys.
She actively pursued Usher while he was married, and left her last husband for him. Usher filed for custody under her direction. She tries to buy his kids, shows up at their school without him to drop off gifts.
It's sad that her own kids are forced to take the back seat.